Meet Our Staff
Howell R. Goldfarb, MD
Howell R. Goldfarb, MD is board certified in anesthesiology and pain medicine. Dr. Goldfarb completed an accelerated 6-7 year B.S. MD program at Sophie Davis School of Biomedical Education at CCNY. He completed his anesthesia residency at Long Island Jewish Medical Center and, his fellowship at Suny Downstate in Brooklyn N.Y.  He was the first fellowship trained pain management physician in Palm Beach County and has served as Medical Director of Comprehensive Pain Care of South Florida since its inception in September 2001.
Dr Goldfarb provides nonsurgical pain relief for patients experiencing persistent low back and neck pain, pre and post-surgical pain, shingles, peripheral neuropathy, discogenic, joint and radicular pain. He has been serving our community for the past 30 years. During that time he has used the most advanced modalities for the treatment of acute and chronic pain conditions. He is an advocate of providing patients with a wide array of treatments to ensure that pain treatment is tailored to each patients' unique pain profile. Dr Goldfarb has been voted Top Doc in Boca Raton, Jupiter, and Palm Beacher magazines as well as Castle Connolly for over 10 years.
---
Keith J. Dietrick, MD
Keith J. Dietrick, MD is double board certified in anesthesiology and pain medicine. He is a university of Notre Dame graduate and he earned his medical degree at the University of Pittsburgh. Dr Dietrick relocated to South Florida After completing a transitional internship and residency  in anesthesia and pain medicine at Portsmouth Naval Hospital in Virginia. Dr Dietrick has been in practice in South Florida and serving our community since 2002.
Dr Dietrick brings an extensive knowledge base of musculoskeletal anatomy and interventional spinal procedures and fluoroscopic (x-ray) guided injections. He also has extensive experience with the use of ultrasound for diagnostic and guided peripheral joint injection. He believes in utilizing a comprehensive approach to pain medicine and placing emphasis on minimally invasive interventional techniques to alleviate their pain and minimizing their dependence on medication. Dr. Dietrick works with local physicians to provide the community the best health care possible. He believes that each patient and pain condition is unique and in order to optimize patient care, therapy and treatment must be tailored appropriately for each patient.
---
Humberto L. Porrata, MD
Humberto L. Porrata, MD is double Board certified in Physical Medicine and Rehabilitation and Pain Medicine. After completing medical school Dr Porrata relocated to New York. In New York he attended St. Vincent's Hospital and Medical Center and that is where he completed an internship and residency. Dr. Porrata remained at St. Vincent's Medical Center and also completed a fellowship in Interventional Pain Management. He has been practicing medicine and Interventional pain management since 2001.
Dr. Porrata believes that every individual is unique and he treats all forms of pain. He provides a comprehensive approach to effectively manage pain through a customized treatment plan. He uses many different approaches from the simplest, such as a trigger point injection to the most complicated, which may include different forms of spinal injections and blocks. In the past 20 years, Dr. Porrata has successfully treated thousands of patients with pain in Palm Beach County. He has 20 years' experience in treating Musculoskeletal, Spine and Neuropathic conditions with the most advanced Pain Management therapies. His experience and background of Physical Medicine and Rehabilitation Specialty allows him to use the most advanced pain management therapies and gives him a unique ability to understand and treat Pain Conditions.
---
Roxanna Rasekhi, DO
Roxanna Rasekhi, DO is a board certified anesthesiologist with a specialization in Interventional Pain Management. She completed her anesthesia residency at the University of Miami's Jackson Memorial Hospital, where she served as Chief Resident. She completed her Pain Medicine fellowship at the Icahn School of Medicine Mount Sinai in New York, where she was trained in the latest fluoroscopy and ultrasound guided procedures for patients with neck, back, joint and extremity pain.
Dr. Rasekhi is committed to the continuous care and education of her patients who are in need of rehabilitation. Dr. Rasekhi's goal is to contribute to the development of a multidisciplinary practice with the focus on person-centered pain management. She believes that one of the best ways to manage a person's pain is through a team of healthcare providers working directly with the patient to focus on not only the patient's pain but also the psychological, social, and physical aspects of health and disease. The primary goal is to provide a variety of strategies and interventions for pain management with an emphasis on self-management and active patient participation. Her underlying goal is to help every patient live a full active life.
---
Nicole Noland, BSN, MSN, ARNP
Nicole Noland is a nationally certified adult nurse practitioner specializing in pain management. She received her master's degree in nursing at the University of Florida in Gainesville. Nicole plays an active role in the care of pain management patients, which consists of examination, assessment, diagnosis, and treatment, and collaborates with the physicians to provide the patient with the best possible care.
Meet our Administrators
---
Kinyata Norris
Practice Administrator Kinyata Norris has been a part of the Comprehensive Pain Care of South Florida team since 2001. She holds a business administration degree, with honors, from American InterContinental University. As the Administrative Manager, Kinyata's responsibilities include promoting group harmony, staff development and mentoring, professional ethics, and office efficiency. The culmination of these activities yields uncompromising customer service.
Our Locations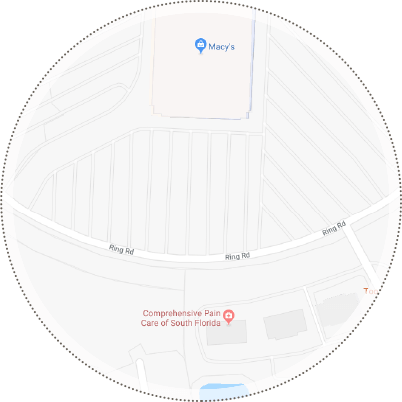 Comprehensive Pain Care of South Florida, Wellington
Comprehensive Pain Care of South Florida, Lake Worth/Lantana communities